The Scarecrow Stand is a three-week crafting quest that starts August 30th, 2016 through September 20th, 2016. Marie is having trouble with birds attacking her crops, and wants you to make some scarecrows for her.
The player must first place the unbuilt stand, which is free. They are then taken to the build screen. The materials are:
3 - 10 Sets of Old Clothes (Post)
3 - 10 Scarecrow Frames (Ask)
3 - 10 Bundles of Hay (Ask)
Amount of materials may vary. Each item can be bought for 2

Farmbucks each. Alternatively, players may buy the finished building for 16 - 54

Farmbucks.
After all materials are gathered, at least 2 Neighbors are needed to complete the building. One it is finished, players will be able to access the quest's main menu. Patches can be collected before the building is finished, but the stand needs to be complete in order to use them.
The Quest
Edit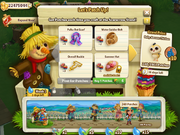 The currency for this quest is called Patches. There are many ways to collect them:
Craft the special goods presented in the main menu.
Completing the quests in Birds Away!.
Post for Patches.
Collecting Patches from other player's posts the activity bar of the Zynga site.
Buying a pack of Patches with Farmbucks.
Each week, the player is given a certain amount of Patches to collect to receive prizes. If the goal is not met by the end of the week, players will not be able to collect those prizes; the game automatically skips over to next week's prizes. If the goal has been met, players can keep collecting Patches for the grand prize: a baby Ancona Chicken and 10

 Favors. Each chicken costs 1901 Patches.
| | | |
| --- | --- | --- |
| Polka Dot Scarf | 6  Wool + 3 Purple Dye (Post or buy for 1 | 4 Patches |
| Overall Buckle | 6  Horseshoes + 2 Coating Spray (Ask or buy for 1 ) | 3 Patches |
| Water Soldier Belt | 6  Water Soldiers + 6  Ropes | 2 Patches |

The first week's prizes are:

The second week's prizes are:
Week Three
Edit
| | | |
| --- | --- | --- |
| Set of Heirloom Colorful Buttons | 8  Heirloom Piece of Wood + 3 Button Clipper (Post or buy for 1 | 7 Patches |
| Knitted Straw Hat | 8 + 2 Large Needle (Ask or buy for 1 ) | 6 Patches |
| Scarecrow Head | 10  Pumpkin + 10  Blueberry | 5 Patches |
The third week's prizes are:
| | | |
| --- | --- | --- |
| A Fence Apart! | Earn a set of Yellow Rose Fences at the Scarecrow Stand! | Points: +25 |
| All Clucked Up! | Raise a baby Ancona Chicken to an adult | Points: +50 |